Gmail is one of the largest used emails around the globe. The main reason for such popularity is its requirement in accessing Google Account. Gmail ID has multiple utilities. Either it's for creating Play Store in Android Phone or accessing multi-functions provided by Google like Google Drive, YouTube, Hangouts, etc. which require Gmail ID. The main reasons why people make a Gmail account for regular use are:
Gmail is free to use.
Unmatched advanced Filters.
Customization option available due to existence of multiple labels.
Option to send canned response automatically based on the filter.
Availability of Multiple interfaces to choose from, unlike other boring email service providers.
Option to snooze email so that you won't forget to response some urgent email in the time you prefer.
If you want to get those amazing benefits from the email service, then here is how you can create a Gmail account. Already have an account? Sign in to Gmail account.
Steps to Create Gmail Account
Step 1: Visit gmail.com from any internet browser you prefer.
Step 2: Click on "Create an Account" option in the top right corner of the page or at the bottom left corner of the page.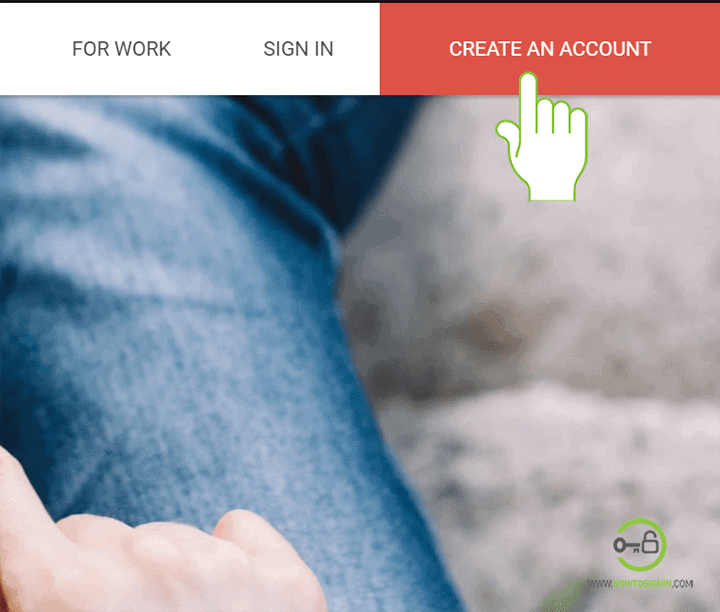 Step 3: Enter all the following details in the Gmail registration form to create Gmail email account.
First and Last Name.
Choose a username: this is what you will be using as your Gmail. Gmail address should be unique- that means username should not have been taken previously by anyone. Due to the high user base of Google finding out the Gmail ID you wish is very difficult.
Create Password: It should be at least 8 characters. The password should be chosen in such a way that it is easy for you to remember but difficult for others to guess. It should be the combination of alphabets, numerical value, and signs. To make it difficult to predict. It is recommended not to use your name, address, family name etc. as your password.
Step 4: After entering all the credentials click on "Next."
Step 5: Verify your phone number
Select your country by choosing the flag from the drop-down menu.
Insert the mobile number that you have access to so that you can verify your Gmail ID. It can later be used to login Gmail or can be used to recover your Gmail password if you forget it.
Click "Next"

Step 6: Check your phone for the verification code sent by Google. The code consists of 6 digit with G- initial.  Click "Verify" to validate your account with your phone number.
If you didn't receive the code, try "Call Instead".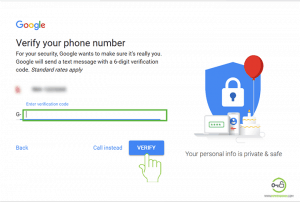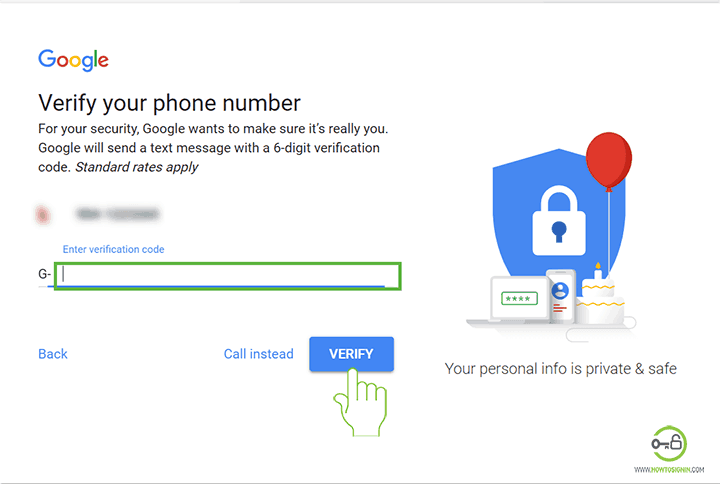 Congratulation!! Your new Gmail Account is ready to use. As you will continue, you will get various options to customize your Gmail including importing your contacts, choosing a theme, etc.
Please also note that, if you do not succeed to create a Gmail account, you will not be able to access Gmail.
Gmail account sign up from mobile
You can make a new Gmail email account easily from your mobile. You can have a brand new Gmail email within few minutes. Open your Gmail mobile app. Please do install Gmail app for Android or Gmail app for iOS from the respective store of your mobile phone if you do not have the app. Now here are the simple steps to create Gmail account from mobile.
Open Gmail app in your mobile
Tap 'Add account' and choose 'Google'.
You will get a pop-up message "Gmail" Wants to Use "google.com" to Sign in. Tap "Continue".
You will see the Gmail sign-in page. Click on 'create account' at the middle of the page.
Enter your 'First Name' and 'Last name' and Click 'Next'.
Provide your basic information with your date of birth and your gender. Tap "Next".

Choose your desired Gmail username. If it's available, click 'Next.'

Create a password for your new Gmail account. Please note that your password must be secure and should contain letters, numbers, and symbols.

Add phone number for security purpose. It will be helpful if you forgot your password. This is optional so you can also choose to skip this by clicking 'Skip' at the bottom of the page.

Please read Gmail's Privacy and Terms carefully. Click on 'I AGREE' to go to your new Gmail account.

You will be prompted to final check of your Gmail account. You will be able to see your name, Gmail address, and features that you get access to your Gmail account. Click "Next."

You will get a welcome message. Click on 'GOT IT'.

You just got your new Gmail account. Cheers.