Looking to fix Snapchat login problems? Snapchat can be fickle sometimes, especially when you have trouble logging into your account. By that time, you might get annoyed if you keep seeing error messages like 'Cannot find the user,' 'Oops! We could not find matching credentials,' 'We cannot find the matching username,' 'Login error,' or 'Your Snapchat account has been temporarily locked.' These errors keep you away from beautiful filters and snaps. However, all mistakes can have multiple solutions to fix them. In this article, we'll discuss Snapchat login problems and its solutions.
Snapchat was initially released as a multimedia instant messaging app by Snap Inc. (Snapchat Inc). After almost a decade, it is becoming one of the most popular social media platforms. One of the core features of Snapchat is the availability of pictures and messages for a short time which becomes inaccessible to the recipients. Snapchat offers the same features as a social media platform and an instant messaging app and offers integrations with services such as YouTube, allowing users to share videos and songs from YouTube and YouTube Music. The app has also introduced innovative features like Stories, AR selfie filters, Nametag, etc. Likewise, you can personalize your snaps with various visual effects and stickers. Geo filters allow users to apply graphical overlays if the user is within a specific geographical location, such as a city, event, or destination.
Apart from its popularity, users are facing some severe login issues. Snapchat Login problems may have caused due to internal technical glitches or other reasons. Although, various possible reasons lead to such difficulties. You can look at some Snapchat login problems and some solutions.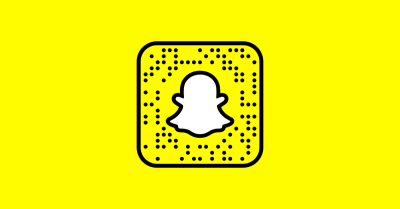 Snapchat Login Problems and its Solutions
Snapchat may be fun, but you may get frustrated if it doesn't let you log in. It might get serious if this login problem continues, and you won't be able to get back to your account, which you've been using for several years. That's why it is crucial to find the main root of your problems and solve them. If one solution doesn't work, you must try another one as soon as possible. So, here we've listed out some major Snapchat login problems and its solutions. First, try out the answer to the login problems you're facing.
First, check their server's status, as the problem could be related to their servers being down. If this is the case, you can't do anything about it but wait.
However, your device may have problems if its servers are running correctly. Head down below, and try the suggested solutions to address the issue.
Invalid Login Credentials
The invalid login credential is one of the major problems you may face while logging in to any account. This login issue appears if you enter the wrong password (That's not the right password), or perhaps you mention an incorrect username or email (Cannot find the user), or you see an error 'Oops! We could not find matching credentials.' In this case, try entering the correct information to log in to your account quickly.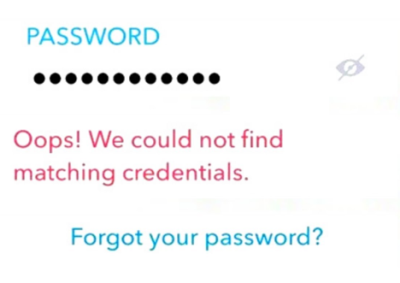 Nevertheless, if you don't remember your Snapchat password, it will be better to change it into a new one and re-login again. Look at these steps to change your password:
First, open the Snapchat app or website.
Next, go to the Login page.
Now, tap on Forgot Your Password link.
Next, choose a method on how you prefer to reset your password.

Finally, follow the on-screen prompts and enter a new password for your account.
Once done, go back to the login screen and try to access your account.
If resetting the password doesn't work, you should try clearing the cache data from device settings or using the Snapchat settings. To iOS users, check out these steps to remove your data:
Open the Settings on your mobile phone.
Scroll down and select Apps.
Find Snapchat and tap on it.
Click on the Storage option.
Then, click the Clear data.
Click on the Clear cache among the options Clear data and Clear cache.
Now, a confirmation pop-up will come. Click on OK.
Restart your phone.
For Android users, try these steps:
Open the Settings app on your device.
Head over to Apps.
Choose the Installed Applications.
Find the Snapchat app to clear the app data.
Select the Snapchat app, then move to the Storage Tab.
Hit Clear App Cache.
If you see 'We cannot find matching username' like shown below while logging into Snapchat, try resetting your password, switching networks, or reinstalling the app. If none of this works, try to log in through the desktop or website.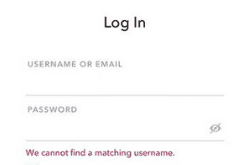 Now, ensure whether the Snapchat issue is fixed or not. If not, try the following method.
Connectivity Errors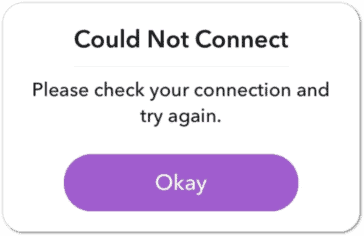 Connectivity errors are another problem you may face while logging into Snapchat. Some common connectivity errors are 'Could not connect' and 'Oh no! Your login temporarily failed, so please try again later,' 'There was a problem connecting to the server. Please try again.'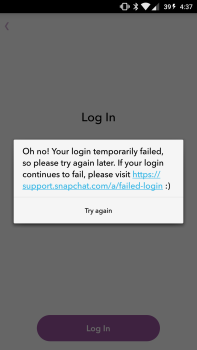 You may see these errors if you've problems with your internet connections and device settings. Look at some solutions to fix them:
Running an outdated version of any software on your device can create some problems. Aside from the errors that may occur, you are also exposing yourself to more significant risks since outdated applications do not have the latest security patches. So, it is highly recommended to use only updated apps.
To update the Snapchat app from your Android device:
Open Google Play Store on your Android device.
Next, tap on the Profile icon at the top-right corner of the screen.
Click on Manage apps & devices from the list.
Then, tap on the Manage tab to check for available updates on the apps installed on your device.
Look out for Snapchat and click on it.
Click on the Update button if it needs an update or not.
For iOS, check out these steps below to update Snapchat.
Tap on the App Store from your home screen.
Now, click on the Updates tab, and your device will automatically check for available updates.
Hit the Update button beside Snapchat to install it if the App Store detects an update.
After updating Snapchat, try to login into your account once again.
Deleting and re-installing the app
Perhaps if the login issues on Snapchat continue, try to delete/uninstall the app and reinstall it again. It can be a case where Snapchat was not installed properly on your device, or it encountered a severe problem while installing files.
For Android users, you can reinstall Snapchat by doing the following:
Open your device and locate the Snapchat app on your home screen.
After that, tap and hold Snapchat's app icon until you see a selection screen.
Tap on Uninstall to remove the app from your device.
After that, go to the Goggle Play Store and reinstall Snapchat.
For iOS users, follow the steps to reinstall Snapchat.
Open your device, go to the home screen and find the Snapchat app.
Tap and hold the app icon until the option screen pops out.
Finally, tap on Remove App to uninstall the app.
After that, open the App Store and reinstall Snapchat.
Turning your device off and back on again can fix minor issues. When Snapchat isn't working, the same logic applies. Reset your device, and it may instantly solve your Snapchat issues. Press and hold on to the Power button and tap Restart. If that doesn't do the trick, move on to the next solution.
Reset your device's network settings
Another super simple solution for you to do is to reset your network settings and reset them, so everything is running smoothly.
To reset network settings on an iOS device:
Launch your Settings from the home screen.
Tap on General.
Tap on Reset at the bottom of your screen.
Tap Reset Network Settings.
After you restart your iPhone and try logging into Snapchat again.
To reset network settings on Android:
Open Settings on your Android device.
Scroll down and tap on General management or System, depending on your device.
Next, tap on the Reset or Reset options.
Again, tap Reset network settings.
Confirm that you want to reset your network settings.
Your device will restart. Once it does, your network settings will have been cleared and reset.
Snapchat Locked Accounts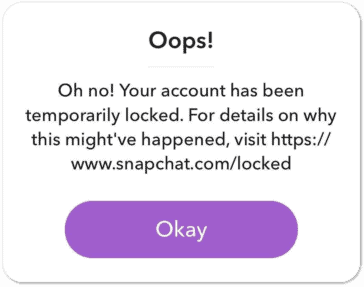 If you received an error message saying, 'Your Snapchat account has been temporarily locked, you can try logging back in via the app or on the web and selecting the 'Unlock' option. Remember to look at some common reasons your account may have been locked below before logging back in again. Otherwise, it may become permanently locked. In addition, your account may be closed if Snapchat detects any unauthorized or third-party app & plugins, spam, or indulging behavior against the company's guidelines. Make sure to uninstall any unauthorized app or plugin and only use the official Snapchat app.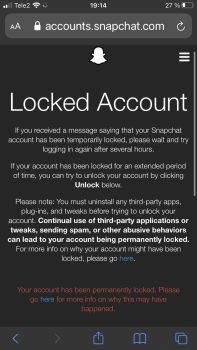 If you attempt to unlock your account and see a message, 'Your account has been permanently locked,' like shown, the Snapchat support team will not be able to open it for you.
If you attempt to log in to your account and see a message 'looks like your account may have been compromised,' then the only solution to fix this is to visit https://support.snapchat.com/en-US/i-need-help?start=5145405817880576 to contact the support team here and fill out the form. They will contact you via email. Likewise, you can try changing your password.
Note: Snapchat will support the accounts that have been compromised through this form. Ensure to include the email address you have access to receive a response from support. You may also need to provide additional information to verify your identity, such as your username, when you lost access to your account, etc.
Network Blocked Problem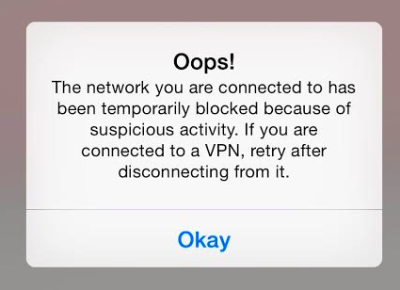 If you can't log into Snapchat, and a message 'your network is blocked' appears, then Team Snapchat may have detected suspicious activity from your IP address, or you may have used a VPN. To solve this issue, try to disable VPN and check if you can log into your account.
An IP address is a unique number for online data that every internet-connected device has, like a mailing address.
Since VPNs work randomly, changing your IP address only, your device may have a difficult time connecting with Snapchat's servers. In this case, Snapchat cannot verify your credentials, hindering you from logging into your account.
An IP address block is usually temporary. So, please wait for some time, and the block will go away once the suspicious activity is no longer detected.
However, follow these instructions if your network is still blocked:
Please go through Snapchat's Community Guidelines and follow them.
You can switch to a different Wi-Fi connection.
Turn off Wi-Fi and use mobile data.
If your device is on a VPN, disable it and log into Snapchat again.
User Not Found Error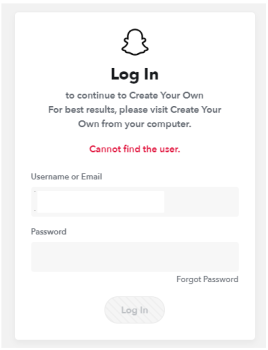 If you log in to your Snapchat with an email address instead of your username, you'll see an error 'User Not Found.' This message appears commonly when you try to access your deleted Snapchat account. So, if it has been less than 30 days since you deleted your account, log in using the username and password. This process will reactivate your account. It can take 24 hours sometimes to reactivate your account.
Note: If you deleted your account 30 days ago or more, the account is permanently deleted, and you can't log into it again.
Login Error
You may see a 'Login Error' message if you use Snapchat on a rooted device. Note that you cannot log into Snapchat or create an account on the app on rooted devices. In that case, you should:
First, log in to your Snapchat account using a different device.
Un-root your device to remove any third-party apps and plugins.
Reinstall the official Snapchat app.
Check your internet connection and switch to a strong network.
Avoid using VPNs and log in again.
If you still have a login problem, you can contact the Snapchat Support Team.
Some Snapchat login problems might not be fixed with the above solutions, so you better hurry up and contact the Snapchat support team or contact form.
You can feel free to contact Snapchat support through social networking sites on Facebook (@officialsnapchatapp) or Twitter (@snapchatsupport).
Last, look at the above Snapchat login problems like invalid login details, connectivity issues, login errors, network blocked problems, and others with its solutions. We hope this article was helpful until the end.