Download AOL Gold which is an upgraded version of the previous AOL desktop app. It is, however, a paid application with 30 days of trial period. It possesses some unique features like:
Automatic upgradation in the background so that you will be able to enjoy uninterrupted service.
You can get all the services of AOL on one platform.
Unmatched speed and performance.
Option to export your personal data to a file so that you can copy the same to another device.
Enhanced security features and many more.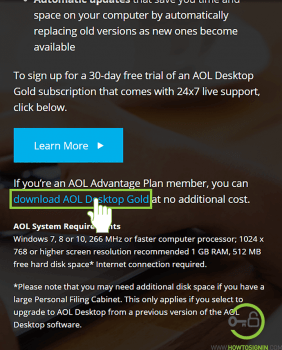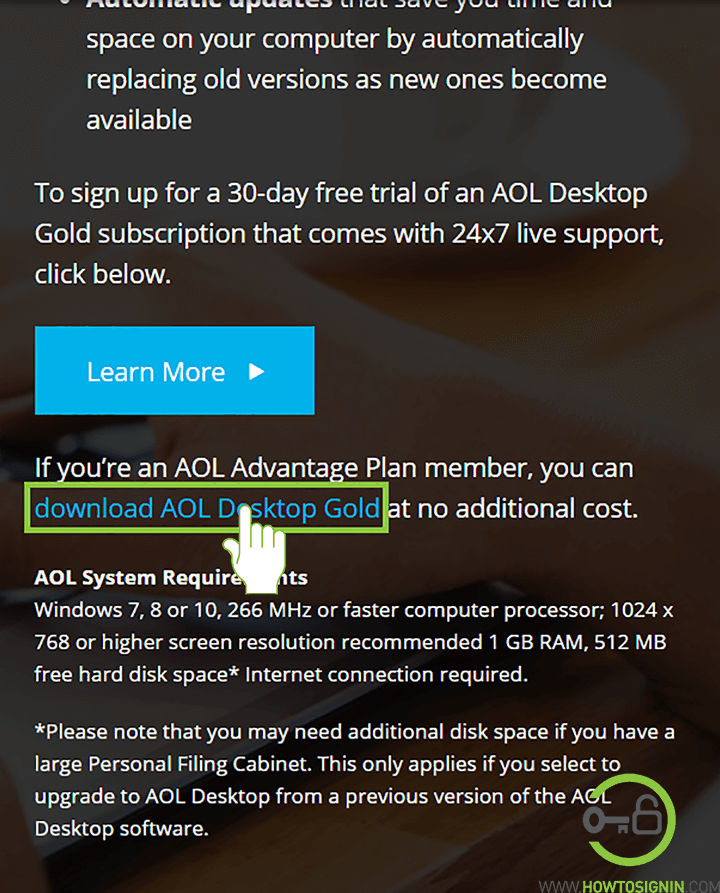 Download AOL Desktop Gold
AOL mail login is very easy from the app if you are using an app. Downloading AOL Desktop is different for different users.
For AOL Advantage Plan member
If you are the member of AOL Advantage Plan member you can download AOL Desktop Gold without incurring additional cost by following this procedure:
Select the option 'AOL Desktop Gold' under the heading 'All Products.'
Click on Download Now option.
Once the download is completed, open file explorer from the taskbar of your desktop.
Open the Download Folder. The shortcut to download folder is generally available in the left panel of the File Explorer if you are using Windows Desktop.
In the download folder double click on Install_AOL_Desktop icon.
A sub-window will pop up; click on Run.
Click on Install Now and follow the process after that.
For AOL Gold subscription or trial holder
Go to "My Account" option on the top of the page.
In the left panel of My Account Page click on "My Service" and select "Subscription."
Now click on "Get Started" under "AOL Desktop Gold." It will start the download process.
Once downloaded, start the installation process as mentioned above
With the link provided in Sign up confirmation mail
Go to the inbox of your AOL Mail account. Unable to login? Reset AOL password and try again.
Either scroll down and find the email from AOL with subject tag "Get started with AOL Desktop Gold" or search it on 'Search Mail' box on the left sidebar.
Open the email and click on "Download AOL Desktop Gold" or "Update Now".
The download will start. After completion, install it in your PC/Laptop.
Download AOL Gold 30 days trial version
Now click on "Learn More" under AOL Desktop Gold.
Select on "Try it free for 30 days".
If you are not already signed to AOL account, you will be asked to Sign in. Click on Sign in and enter AOL email or Verizon email and then enter the password associated with the account.
Enter your basic billing information including your credit card number and phone number. You will be charged as soon as your trial period ends. If you don't want to continue using AOL desktop paid service, you should cancel the subscription before the trial period ends.
After you are done providing all the information, click on "Start your Free Trial".
Now click on download now.
As the download is completed, follow the installation process as mentioned above.
System Requirement for AOL Desktop Gold Download
Your Windows operating system should be Windows 7 or newer.
Hard disk should have at least 512MB of free space.
At least 1GB of RAM.
Computer processor of 266 MHz or faster.
The latest version of web-browser is recommended.
1024 x 768 or higher screen resolution recommended
Download the AOL app for iOS and Android
Reasons to Download the AOL app for your mobile phone.
Notification: On the AOL app, you'll get a notification for important email and breaking news, so you don't miss anything. Stay informed about current affairs, either it is politics, finance or news about your favorite celebrities.
Manage Emails and Contact: You can manage all your AOL emails from the app. You can send, receive and manage your emails from the app easily. Also, add multiple AOL account, send messages and access all of your phone AOL contacts from the app.
News: On AOL mobile app, you'll get the latest news on current world and US affairs. You can also read or watch the news on sports, lifestyle, finance, and weather. The news source includes AOL Finance, AOL Sports, TechCrunch, HuffPost, Engadget, etc.
Web Search: You can search the web right from the AOL app.
Weather: Get the accurate weather forecast for your area. You can also check the daily or hourly forecast.
Download AOL app for iPhone and iPad
You can directly get AOL app for iPhone. Alternatively, you can:
Open App Store from the iPhone menu.
Search 'AOL' on the search icon inside the App Store.
Tap on 'AOL: News Email Weather Video.'
Select the download.
AOL app Download for Android phone and tablet
Directly download the AOL app for Android. Or you can:
Open Google Play Store from the mobile menu.
Search AOL app in the Play Store.
Download the app.