What is Christian Mingle?
Christian Mingle is an online dating platform entirely dedicated to singles willing to be in a relationship rooted to Christian religious faith. Sparks Network launched it in 2001 is one of the best religious or Christian faith-based online dating site providing harmonious membership base. If you are looking for someone to be your friends or even soul mates within your faiths in the online platform, then Christianmingle.com is best for you.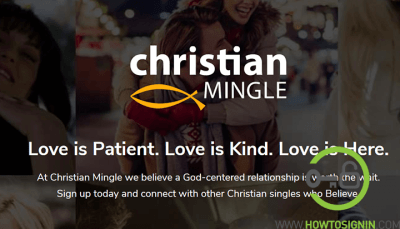 It is an inexpensive dating site which can be the best option for the single Christians who are in search of like-minded people with similar faith. With more than 16 million users you always have more possibility to find your perfect match.
The problem of many online dating sites is that you are always limited to take full charge of your match, but with Christian Mingle you have all these options on your hand. You are in charge of your search. What does that really means? You can create any kinds of search to find who is online near to your distance to know how closely your preferences matches with other people. Like other famous dating sites, Christian Mingle also shows you matches every day to choose from, what makes it unique is that you can access the complete database of singles in the site to make your choice.
The profiles in ChristianMingle.com are limited to Christian faith. When you do search ChristianMingle.com with specific options; you may get only hundreds of accounts where other dating platforms give you thousands of results. This site went through many changes recently, having a new logo and branding with larger text and pictures that give you updated feel. And with the removal of some irrelevant online dating features prayer wall, birthday searches, chat room, etc. which has made Christian Mingle online dating site more responsive and user-friendly.
ChristianMingle.com site and mobile dating app are around for a long time. Thousands of success stories of ChristianMingle.com user proves that it is one of the top-ranked Christian dating sites.
Christian Mingle Search
Similar to other popular dating platforms like Zoosk, Match, eHarmony, etc. Christian Mingle also offers different kinds of search to help you find your perfect match. It is a product of Spark Networks, which is also the producer of another popular date site Spark.com.
Christianmingle.com dating site use Color Code Personality test to find the best match for you.
Another unique and significant matching technique of Christian Mingle is "Readiness IQ" test. This is the exciting feature of Christian Mingle that test if you are ready for a date and even start a relationship. In addition to Color Code and normal preference-based search, with a paid subscription you can get more and more feature to increase your possibility to find your match.
What makes Christian Mingle stand out from other popular online dating sites?
Similar to all those popular dating sites, the basic outline of the Christian Mingle is the same, that is search profile, get a match, communicate and so on. But as the name suggests it is one of the best religion-based· sites where all other popular site mentioned are a general dating site. The major niches of Christian Mingle dating site is it's fully dedicated to Christian single though all the users are not meant to be very religious.
Many features that are only useful for people following Christian such as daily bible quotes, Worship center and many more. Here are some unique features of Christian Mingle that may appeal you to create Christian Mingle account soon. And if you are Christian single, then you might don't want wait to create new Christian Mingle dating account.
Christian mingle gives you full control of your match. It is always more fun to search for your own match rather than only selecting from the recommendation provided by the dating site.
It is one of the affordable dating sites. When Comparing the with other famous dating sites, the pricing of Christian Mingle is way cheaper. Pricing of Christian Mingle is just 24.99$ per month when you take six months subscription, which gets back to 49.99$ per month for a single-month subscription.
In other mainstream dating sites, the number of users is way more than Christian Mingle, and you might not get a response from the profile you are interested due to the inactivity of the profile. You cannot see from when or how often the profile you search active or inactive on the sites. Where other dating site fails to provide the feature to know how recently was a user active on the sites, Christian Mingle delivers this most needed feature. This lets you search only active profile of your interest.
Getting inside the dating site doesn't mean that you are ready for date and relationship, Christian Mingle has a feature named "Readiness IQ" that test your IQ test to know if you are fully prepared for dating or committing relationship.
With the dating site dedicated to the users with religious faith, Christian Mingle has many other features like worship center, spiritual relationship tips, Bible quotes and many more related to the orthodox faith.
Is Christian Mingle free? How much Christian Mingle cost?
Getting started with Christian Mingle is free for everyone. You can create a new Christian Mingle account without any payment. Basic features of Christian Mingle is free of cost. You can get a recommendation from Christian Mingle. You can vote 'Yes,' 'No' or 'Maybe,' you can communicate with other profile, and this doesn't cost you anything.
But expect those basic features, most of its premium features are available only for the paid subscribers. To communicate with other paid users and to see if other people saw your message you need to get the subscription.
So getting paid subscription of Christian Mingle is essential to gain full access of Christian Mingle dating sites and app. You cannot seek for Christian Mingle free trial as this site doesn't give full access unless you subscribed for it instead you may find some third party website providing Christian Mingle promo code for Christian Mingle member login to get a certain amount of discounts during payment.
The cost of Christian Mingle dating sites premium subscription as follows:
| | | |
| --- | --- | --- |
| Subscription Period | Cost per month | Total cost |
| 6 months | $24.99 | $149.94 |
| 3 months | $34.99 | $104.97 |
| 1 months | $49.99 | $49.99 |
To buy Christian Mingle subscription, on your account home screen and click on Get all features.
In next step, you will be shown all the plans with the pricing of premium subscription for a specific period. Select the best-suited package for you and carry out payment process to enjoy full premium features of Christian Mingle dating sites and dating app.
Don't have a Christian Mingle account?
Christian Mingle Sign up now
Create a new Christian Mingle account for free with quick and easy steps which take a few minutes only. If you use your social media to sign up for Christian Mingle account, then the sign up process goes more quickly. When you sign up to Christian Mingle using your Facebook account, the site automatically extracts necessary information from Facebook so that you don't need to enter the information manually.
Only initial taste of Christian Mingle is free. You've to buy its subscription to gain all access.
Get started by navigating to christianmingle.com from the browser of your choice such as Firefox, Chrome, Safari, Edge, etc. Since we are creating the account using web browsers, you can use the same steps in  any platform with a web browser and internet connection.
Now first sign up form will appear where you need to enter only two information.


Email: Your current email address that you want to use for Christian Mingle sign up. You use the same email for ChristianMingle.com login.
Password: Enter a password of your choice that secures your account, that will be easy for you to remember but hard for others to guess. Don't use any name, phone numbers or easy words as your password. Use capital and small letters, special characters, and numbers to create a secure password.

In the next step of the sign-up process, you need to enter your fundamental information.


Enter your First name and Last name, always use your official full name to create your Christian Mingle account.
Select your gender so that the site can recommend you the gender of your interest.
Enter your full Birthdate information.
Provide your Zip code. You can also click on pin sign at the right side of the box so that it automatically detects your location. Just don't forget to allow your browser to use the location service.
Finally, click on the checkbox to agree with the Terms of Service and Privacy Statement, and click Next to move further in Christian Mingle account setup process.

Now it's time to upload your profile picture to use on your account. Remember to use a clear picture of yourself. Uploading wrong photos will not be accepted. If your profile picture is found invalid, you will be informed after the site thoroughly check the information you enter. You can use multiple images of yourself to increase your chance of matching with the higher number of profiles.

Choose your name or add another Display name and hit Next to continue.

In this step provide more information about you, your religious information and your personal background.


Move the scale bar to mention your height.
Marital Status if you are never married, divorced or widow.
Mention your religion, if you don't find your option then select other religion.
Select how often you go to church, this reflects how religious you are.
 Enter what your occupation is, this might be helpful for the people interested in you.
If you have kids, select if you live with them or not. If you have no kids, choose 'don't have kids.'
Want to have kids after being on the relationship? Select 'I want kids' or also you can select to 'welcome the people with kids'. If you don't want to select 'don't want kids.'

Creatively explain yourself. Write a summary about yourself, about your thoughts, your relationship expectation and so on. For some tips to help you write useful profile summary click on link Check out these tips. You can also skip this step if you want to write this later on after creating Christian Mingle account.

Now take a small time to enter your interest in sports and fitness, hobbies and a few more. You just need to click on the list of interests mentioned below or search your interest right from the box. Skip the step if you want to add it later on.

Next step is the main block of sign up process. Mention what you are really looking for and enter the accurate information carefully.


Select your preference on gender under I'm Seeking option.
Move the scale bar around to mention the age range of the people you are interested in.
Select the distance that you want your searches to limit. Matching to nearby people is always easy to ask for a date.
Choose which religion people you want in the recommendation.
State what sort of relationship you want by selecting any suitable option on Relationship Type.

Finally, click on Next to complete the sign-up process. Now you can start searching for the profile with your preferences, communicate with them, interact with them for a casual date and so on.