How to create a new account for Zoosk free trial?
Are you looking for Zoosk free trial? You can sign up Zoosk account for free. Zoosk has a user-friendly site and mobile app, efficient search and unique but effective matching tools. Though many other sites provide free trial, Zoosk registration allows you to access basic features for free and gives you an additional 14 days for free when you subscribe with a credit card.
The registration process is easy and goes quickly, more quickly if you want Zoosk sign up using your Facebook or Google account. When you sign up for Zoosk using your social media account it extracts your profile information, so you don't need to enter it manually. But still completing your full profile manually helps you to increase your presence with a profile picture and verified phone numbers.
Get started by navigating to Zoosk.com from any browser in your device such as Firefox, Edge, Chrome and so on. Remember that Zoosk service is not available in all the region, so you may not be able to access the Zoosk site from some region. You can take help of VPN software if you are out from the accessible region.
After you land to Zoosk site, you will see Zoosk sign up box on the left side of the site. This is the box where you need to enter basic information about yourself to go through the sign-up process. If you want to sign up quickly, you can create new Zoosk account using your Facebook or Google plus account, click on the respective sign up tab at the top of Sign up box. You will skip all the manual steps if you do so. Otherwise, you can enter your information manually:


Choose your gender and preferences for your match.
Your complete Birthdate information
Email address
Your valid email address
A secure password to secure your Zoosk account.

After filling out the information, hit the 'Sign Up' button.
Enter your location. This helps to find matches for you nearest to where you live. Click on the box and enter the name of the city where you live, or you can also enter the mailing code of your area. As you type, you will see drop down that will help you to select your location. Didn't find your area? Just choose other areas which are nearby to you if available or the Zoosk service is not available in your region. Finally, click Continue to advance one step closer to finding your match.
Next step is to upload your profile picture. This is a significant aspect of your account because a good profile picture can attract much more profile for you. Click on Upload a Photo to open windows explorer box. Choose best profile picture for your account and click Open. You can also choose to upload your image from Facebook or Google plus, click on respective upload tab and upload your profile picture. Though you can Skip this step, it is strongly recommended to upload your profile picture.
Now you will be asked a few questions about yourself, answer every question thoroughly. Click in each drop-down menus below the question, and select the preferred answers about:

Your body type; whether your body is slim, average, and so on.
Your children information; whether or not you have children, if you have whether or not they are living with you.
The highest level of education you've achieved.
Ethnicity
Height
Religion you follow
Whether or not you smoke, if yes then how often.

All these questions may appear on the same page or different pages, if you didn't see all the questions on one page, click Continue to go through the remaining questions. If you are using Zoosk dating app to create a new account, you will probably see a single question in a page, select the answer and you will be directed to another question automatically.
The final step to complete your Zoosk sign up process is to verify your email. Login to your email and search for the received the email by Zoosk. Some email service might treat Zoosk email as spam, so don't forget to look at it if you don't find Zoosk email on your inbox. After you receive the email from Zoosk, click on the green tab labeled "Confirm Your Email" and your new Zoosk account is created.
If you are going to create new Zoosk account using Zoosk dating app, you can follow similar steps for Zoosk sign-up. You need to fill information page by page, and it will automatically take you to the next step.
Is Zoosk totally free? How much Zoosk Cost?
Starting with Zoosk is free for all. Basic features of Zoosk is free of cost. But some of its premium features are available only for the paid subscribers. To chat or exchange message with someone on Zoosk you need a paid subscription. To see if someone viewed your profile or matches made using smart pick are also not available for free users. So getting paid subscription is essential to gain full access of Zoosk dating site or Zoosk dating app.
Another additional feature of Zoosk is Zook coin which can be used to get more advantage of the dating site beyond the subscription plan. You can highlight yourself and message to other Zoosk profiles using Zoosk coin. You can also send virtual gifts to other Zoosk users and even get notified when other users viewed your message.
Pricing of Zoosk subscription is made easier to understand with the table of cost and time period.
| | | |
| --- | --- | --- |
| Subscription Period | Cost per month | Total cost |
| 12 months | $12.49 | $149.88 |
| 6 months | $12.49 | $74.95 |
| 3 months | $19.98 | $59.95 |
| 1 months | $29.95 | $29.95 |
To subscribe click on Subscribe below the menu bar at the left side of the screen.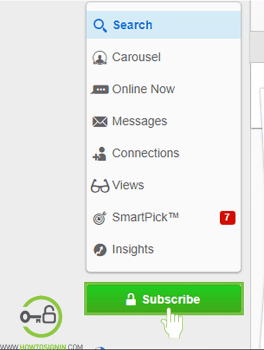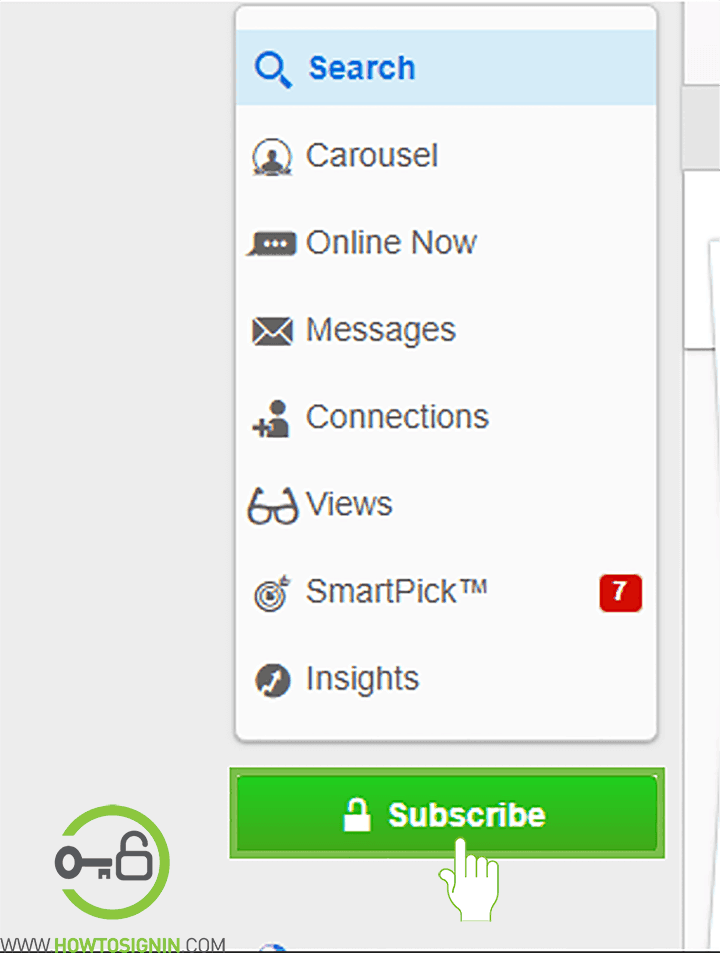 With this subscription, you might also get some offers to save your wallet if you are lucky enough. For a limited time period, Zoosk is providing 14 days free additional days to Zoosk subscribers. For this, you need to enter a Zoosk promo code "gtqewwig" during the purchase (We don't take any responsibility for the term of this offer).
You can also buy Zoosk coins. To buy Zoosk coins, click on the profile picture at the top left corner of the screen, and select Buy coins.