Sling TV is a digital streaming platform that allows you to stream live TV without the hassle of cable TV.  You can watch live channels from ESPN, Fox, NBC, and newer additions like BBC and AMC. With plans starting at only $30 a month, Sling TV lets you cut the cord at a reasonable price to let you enjoy live TV conveniently on your phone, tablet, or laptop.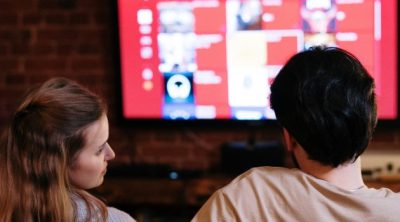 Launched back in 2015, Sling TV offered an option for severing the cable cord by providing live entertainment for the very reasonable basic subscription price. While a slew of competitors soon followed, Sling TV still remains one of the most reasonably priced live TV streaming services.
It surpasses cheaper competitors like AT&Ts Watch TV ($15 per month) and Philo ($20 per month) with its access to sports networks that undercut others. If you are leaving expensive cable TV subscription or looking to save money over cable, Sling TV is the best choice.
Sling TV is an entity owned and operated by the Dish network. While you'll need to shell out upwards of $100 per month for around 200 channels for a Dish subscription, you don't need a dish subscription to get sling TV.
Dish never launched Sling TV as a full-fledged replacement of satellite TV but hoped to cater to the needs of cord-cutters and those who never owned cable. So, it is basically cable or satellite TV- but you'll need an internet connection. Instead of connecting your TV to a set-top box, you connect a media device or game console that runs the Sling TV app.
One of the reasons Sling TV remains a popular live TV streaming service is because it lets you watch sports channels like ESPN and the NBA. While sling TV offers on-demand sports channels like NFL, ESPN, and Fox Sports, they're restricted among two equally priced $30 plans: Sling Orange and Sling Blue.
Sling orange remains the cheapest way to watch live sports on ESPN but is not available in blue. NFL lovers can subscribe to Sling blue. A combined Sling Orange +Blue package available at $45 offers all channels at a more reasonable price.
Why Sling TV is better than others?
Access to sports networks
Access to live sports is difficult to get in other live streaming services. Inclusion of sports networks like NBA, NFL Network, and ESPN along with sports add-ons make Sling TV an option hard to pass for sports enthusiasts who don't want to miss out on any games for an affordable price of $30 or $45.
Another useful feature for sports lovers is Game Finder on the sports tab, an online tool for finding and tracking your favorite upcoming games from NBA, NFL, MLB, and more.
DVR storage service
Unlike its expensive competitors like YouTube TV, which offers unlimited DVR storage, Sling TV offers 10 hours of free cloud DVR storage to all its subscribers. And you can get an additional 50 hours of storage for an extra $5.
The storage space may seem too little when competitors like youtube TV offer unlimited storage, however considering that Sling TV can be streamed on only one of three devices, a 50 hour DVR storage seems reasonable for the price and it'll make sure you don't miss anything.
Sling TV deletes the earliest recording if you approach the storage limit but allows you to mark content as protected so that you can save it from being deleted.
Video on demand and free contents
Sling TV has a wide range of movies, both old and new. It offers a healthy variety of big-name movies. A recent agreement with Epix will provide Sling TV subscribers access to over 1500 VoD movies. Rental costs for such content span from $3 to $4 depending on the quality. You'll have access to your rented content for 30 days.
You can use your phone, laptop, tablet or smart TV to watch a collection of live and on-demand TV channels.
Even if you cancel, Sling TV has over 100 hours of free content for its former users that you can watch anytime for free, and most recently Blockbuster offering a free old movie on the weekend without any payments.
Sling TV plans
Sling has three plans that are differentiated by the number of channels, channel restriction, and the number of devices you can stream on.
Sling Orange: At $30, Sling orange offers 33 channels limited to streaming in only one device.
Sling Blue: At the same $30 price, sling blue has 48 channels and can simultaneously stream in up to three devices.
Sling Orange + Blue:  A combined plan containing both sling orange and blue-it offers 51 channels and can be simultaneously streamed in four devices. However, sling orange channels are still limited to streaming in only one device. This plan costs $45 per month.
Channels available on Sling Orange
| A&E | AMC |
| --- | --- |
| AXS TV | BBC America |
| Bloomberg TV | Cartoon Network |
| Cheddar Business | Cheddar News |
| CNN | Comedy Central |
| Comet | Disney Channel |
| ESPN | ESPN 2 |
| ESPN 3 | Food Network |
| Freeform | Fuse |
| HGTV | History |
| IFC | Lifetime |
| Local Now | MotorTrend |
| Newsy | Stadium |
| TBS | TNT |
| Travel Channel | Viceland |
Channels available on Sling blue
| A&E | AMC |
| --- | --- |
| AXS TV | BBC America |
| Bloomberg TV | Bravo |
| Cartoon Network | Cheddar Business |
| Cheddar News | CNN |
| Comedy Central | Comet |
| Discovery Channel | Food Network |
| Fox | Fox Regional Sports |
| Fox Sports 1 | Fox Sports 2 |
| FX | FXX |
| Fuse | HGTV |
| History | IFC |
| Lifetime | Local Now |
| Nat Geo Wild | National Geographic |
| NBC | NBC Regional Sports |
| Newsy | NFL Network |
| Nick Jr. | Paramount Network |
| Stadium | Syfy |
| TBS | TLC |
| TNT | Travel Channel |
| truTV | USA Network |
| Viceland | |
However, on sling blue, NBC and Fox's sports networks and local broadcasts are available only on select markets listed here.
Channels available on Sling Orange + Blue
Sling Orange + Blue offers all the channels of Orange and Blue package combined.
Sling Add ons
Sling also offers a platter of extra packages, international add-ons, and 'a la carte add-ons' for Sling Orange and Blue subscribers and prices range from $5 to $15 per month. Most of the extras are also restricted to either orange or blue.
Here are some of the multi-channel extras Sling TV offers
Sports Extra-Orange only($10 per month): NBA TV, ESPN SEC, ESPN SEC+, ESPN Goal Line, ESPN Bases loaded, ESPNU, ESPNews, NHL Network, BeIN Sports and more.
Sports Extra-Blue only ($10 per month): RedZone NFL Network, NBA TV, NHL Network, NBC Golf, BeIN Sports, and more.
Kids Extra-Orange only ($5 per month): Disney Junior, Disney XD, Nick Jr., Nicktoons, TeenNick, Boomerang, BabyTV, and Duck TV.
Kids Extra-Blue Only ($5 per month): Nicktoons, TeenNick, Boomerang, BabyTV, and Duck TV
Hollywood Extra-Orange and Blue:  TCM, HDNET Movies, Fandor, and more.
Are there commercials on Sling TV?
Unfortunately, yes, just like cable TV-Sling TV also has the same commercial breaks and advertisements that are broadcasted by the channel on satellite or cable TV.
You can't skip such advertisements and there are some un-skippable and non-pausable advertisements on some on-demand content. In the free content section, there are mandatory two-minute advertisements on most shows.
What about pausing, rewinding, and fast-forwarding?
If you've shelled out a few extra bucks on the extended cloud DVR service of 50 hours, you get to pause some live channels. The pause, fast forward, and rewind buttons are useful on most channels if you have the DVR service and sometimes even allow you to skip commercials.
But without the cloud DVR service, the buttons don't work at all with most channels including ESPN channels, AMC, Cartoon Network, ABC among many others.
On a positive note, the channels that do allow pausing and rewinding will let you rewind up to three days of past program history so that you can catch the episodes you've missed.
Sling is constantly adding time shifting to more channels and increases the time. Currently over a third of its all channels offered have this feature.
How to watch Sling TV?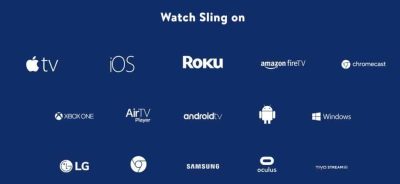 First, you need to create an account at sling.com to register and install the sling TV application on your device. Then simply sign in anywhere in the US to watch live TV.
You can watch it on a diverse range of devices, unparalleled by any other streaming service. Sling TV is available on Android and iOS phones and tablets, PC and Mac computers, Roku (DVR storage extends up to 100 hours), Android TV, Apple TV, Chromecast, Amazon Fire, and Fire TV stick, LG TV and Samsung Smart TV.
It is not available yet in Xbox 360, Apple TV (older than 2015 versions), and Playstation 3 and 4.
How is the interface?
The user interface at first glance will remind you of Netflix rather than the grid layout on cable TV. But can also choose the blocky tab interface. The navigation between tabs is rather quick and smooth In the channel tab, the menus are clean, distinct, and easy to use.
Search button and Settings are on the top right followed by a list of channels and your scheduled shows. The interface also highlights large thumbnails of shows you might like and on-demand content.
The list of channels focus on the large logos and are separated according to the genres you're most likely to watch.
The options on the op tab have a My TV tab that allows you to choose your favorite shows and channels and reminds you where you left off on previous shows.
The On Now section has separated genres that display current live shows. Also, there's a detailed guide that lets you switch between the grid view or the channel view (the Netflix like view). There's also a section for sports, on-demand, and rented videos.
Overall, it's quite easy and actually fun to use and lets you find stuff you want to watch with ease.
How is the video quality?
The streaming quality depends on your internet connection. While Sling recommends an internet connection of 5 Megabits or more per second, it is not mandatory and sling offers four qualities according to the internet speed, low, medium, high, and best.
At its best quality, Sling TV does come close to comparison with any HD cable TV with perfect stability and motion. However, even with a high-speed internet connection, the picture quality does drop quite noticeably with some minor pixelation with some buffering while switching channels.
We'd say the visuals are pretty clean and crisp and come close to cable TV when watched on a small screen but the shortcomings are evident with larger screen size.
Overall
Sling TV, amidst the plethora of live streaming services available, still stands as one the best budget cord-cutter available.
Despite its confusing plans with network and streaming restrictions, a $30 monthly payment for access to sports networks and on-demand shows is a great deal and will save you a chunk of your money over-time, considering the price range.
So if you're still unsure if Sling TV is the right fit for you, we recommend you test it out using a 7-day free trial without a contract and its multitude of offers. You can cancel without any hidden fees or penalties.
Odds are you're one budget-conscious cord-cutters or just looking for affordable online streaming service, Sling TV should be the first live streaming service you should check out.